If you would like to join the Grainville Tennis Club coaching programme, please complete an Application Form and return it. Only squad members can take part in Polar Capital Events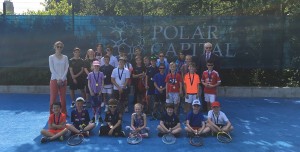 Picture Above
Children from 2019 Polar Capital Starter Event. A unique event where all matches have an umpire and all children receive the same price.
Left Sara Gurner Polar Capital, right His Excellency the Lieutenant Governor of Jersey Sir Stephen  Dalton who presented the prizes.
Tennis courses have resumed with restrictions in place. For full details email Rychlund62@gmail.com
Forms to follow
Dev squads.  For Players who have an understanding of how to play matches
Junior Squads. Juniors age 5 – 11
Adult Beginners & Intermediate
All Junior & Adult coaching courses are available for members & Non members
The New Satellite and existing Academy squads offer the following
Drills Session, Fitness and Match Play. These are invitational only.
For details contact Rychlund – Rychlund62@gmail.com