GTC Junior Section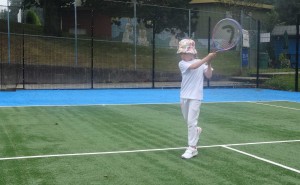 At the club we have a comprehensive junior coaching programme.
Please see below our Junior pathway guide
Junior Tennis Events 2021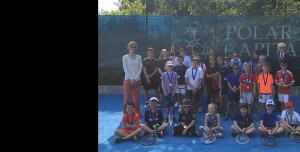 Starter Events – These are for players with little or no experience playing tournaments. They are played in a friendly environment. Each match has a young leader helping with basic scoring and rules.
During the Summer/Autumn we held 4 of these events had over 120 children take part. All matches had a young leader to help the juniors.
Autumn events had again over 60 children taking part.
In 2017/18 0ver 100 juniors took part in the Polar Capital Starter events. All of the matches had a young leader to help umpire and score. All those who took part received a prize. These events proved a great success for both juniors & parents.
Match play Events Saturday 1pm to 3pm/strong> – For the more advanced junior player. Players from Academy & Satellite squads are invited to take part. Results are sent to the LTA.
GTC Junior Club Nights – Now back on. Tuesday nights 4pm to 5.30pm.  Held during school term time. Players have an organized session and able to get refreshments from the snack bar.
Please note: Tuesday Junior club 4pm to 5.30pm. Open to members only. If you would like to try a session then please email- Rychlund62@gmail.com
Notable Results from Grainville Academy Players
2022
Play Your Way To Wimbledon – U14 Girls Channel Islands Winner Isabella Aldridge
Jersey Tennis U14 Girls Match Play Event – Girls Runner Up
Team – Isabella Aldridge, Chloe Laisney & Evie Proctor
2021 
Jersey Junior Closed winner Isabella Aldridge
2020
2019
U10 Jersey Closed Girls Champion Isabella Aldridge
U8 Jersey Closed Boys Champion Thomas Heaven
2018
Oliver Heaven runner up GTC Closed & Winner U10 Jersey Closed
Isabella Aldridge winner GTC Closed, 3rd Jersey Open U9 & winner Jersey Closed U9
Eddie Rothwell winner  GTC Road to Wimbledon Event
William Read winner GTC Road to runner up Wimbledon Event & winner GTC Closed U12
Harry Shrimpton winner GTC Closed
Sammy Moore runner up GTC Closed
2017
Oliver Rothwell wins Road to Wimbledon Channel Islands Event for the Second year running
William Read wins The Novice singles U10 & U12 Event
Isabella Aldridge wins the U8 Jersey Closed singles
Oliver Rothwell & Asa Tribe win U14 Boys Doubles
Eddie Rothwell wins U10 Boys Doubles
Well done to Sullivan Perchard entering his first Jersey Closed
2016
Oliver Rothwell wins Road to  Channel Islands Road To Wimbledon Even and plays at Wimbledon in same event
Novice 2016
GTC Winners
U8 – Isabella Aldridge
U9 – Beau Gurner
U10 – Theo Pullman
Boys U12 – Kai Pullman
Girls U12 – Pia Gurner
Boys U16 – Harry Shrimpton
2015
Timmy Boulter & Milly Oldridge won the GTC Road to Wimbledon Grainville Event
Timmy then went on to win the Road To Wimbledon Event held at Wimbledon
2012/13
Oliver Rothwell won the 8& Under in the Jersey Junior Open & Closed. He got to the semi final of both tournaments in the 9& Under Events. He won the 3/4 play off in the Closed. Oliver and Asa Tribe won the 8& Under doubles in the Jersey Junior Open.
Eddie Rothwell got to the quarter finals of the Jersey Closed. He was in the consolation group for the Jersey Open.
Well Done Boys
Milly Oldridge Academy Player Notable Results
Junior Novice Open Tournament U10 girls Singles: Winner
Junior Novice Open Tournament U10 girls Doubles: Winner (with Isabelle Smith)
Junior Closed Tournament U10 girls Singles: Runner up
Junior Closed Tournament U10 Doubles: Runner up (with Ana Jordi)
Well Done Girls
Oliver Flavell Notable result
Jersey Junior Open Tennis Event 2012
Oliver won the Position 9 – 16 event (9& Under) beating Tom Harben 5-7 10-8 7-5
Well done Oliver