Organized Club nights and club sessions  
Following Gov.je guidelines 
Coaching programme 
Club House can be used. Members to wear face masks.  Under certain rules  
GTC Events Adults/Juniors
Adults – Now On Friday Mixed Singles League 
 PKF bba Adult Team Tennis – Saturday Nov. 6th
22 Players took part. Blue Team winners with 58 games.
Saturday May 22nd Guest Player author Peter James 
Previous Events
Friday Mixed League 
Mixed Singles League starts November 22nd 
Friday night mixed league Sept. 11th for 6 weeks. 3 groups of 4 pairs
Saturday 12th PKF bba Team Tennis. First event full with 6 teams and 24 players.
Winning Team Blue win with 58 games  
Karen Lumborg, Joan Streets, Mic Renourd & Mark Primrose.
Second PKF bba event Saturday 26th 1.30pm start.   
Previous Events
Men's Doubles Team Event Starts Mon. July 27th 6pm  – 3 week event
Women's Doubles Team Tennis Cancelled  
Summer Events
New Sponsor for Adults
GTC are delighted that PKF bba Chartered Accounts are the new sponsor of the adult events at Grainville
First event Team Tennis Saturday September 12th 2020
Juniors – Starter Event Saturday May 8th 2pm to 4pm
Previous Events
First Event Saturday September 19th (Squad Players only)
Walkers Global Team Tennis
Saturday June 8th 26 players 6 teams. Silver Team won with 72 games.
Next Walkers Event Saturday June 29th – Sign up sheet in clubhouse.
Friday Night Mixed League – Adults duration 6 weeks Finished – Next league starts September
Juniors
Polar Capital Starter Event
In its 4th year Grainville Tennis thanks Polar Capital for their continued support of the junior programme.
Saturday Sept. 19th & Saturday Oct. 19th 
GTC Junior Closed Saturday Oct 3rd
Previous Events 2019
Saturday October 19th 2pm to 4pm
Saturday September 28th – 30 juniors took part
Saturday May 18th – 35 juniors took part
Saturday July 13th – 38 juniors took part
GTC Club Championships
Saturday July 6th 10am to 1pm Entry form has been emailed to members.   
Past Events 2019
GTC v RAF Peregrines. Played Saturday May 3rd
Peregrines won 15 – 3
Below Team Photo of GTC & Peregrines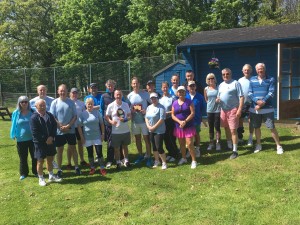 Presentation – Left to Right
Sir Stephen Dalton, Group Captain Mark Biggadikel (Peregrines Chairman) Paul Simmonds (GTC Chairman)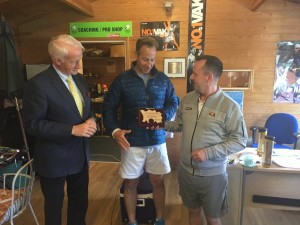 November 2018
Captains v Presidents
Captains 12 points Presidents 10 points
Mixed Doubles Friday Night League – September to October 6 weeks
Division 1 Winners – Matt Gaskel & Collette Wilson
Division 2 Winners – William Church & Pat Pascual
Polar Capital Starter Event – Saturday September 15th 2pm to 4pm (Squad Players Only) 32 juniors played
Walkers Global Team Tennis Event – Saturday September 22nd 1.30pm to 5pm (Club Members Only) 4 teams played with 16 players taking part.
Polar Capital Starter Event – Saturday October 6th 2pm to 4pm (Squad Players Only) 33 juniors played
Walkers Global Mixed Doubles Challenge Event – Saturday October 13th 1.30pm Start                                            Winners – Graham & Lucy Shuttleworth    Runners Up Geoff & Anne Southern
Previous Events
Summer Polar Capital had over 60 children take part.
Special guest presentation by His Excellency Sir Stephen Dalton Lieutenant Governor of Jersey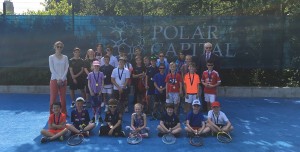 Walkers Global summer events 10 teams took part – with 40 players including Sir Stephen
Saturday April 28th – Polar Capital Starter Event
33 Children took part in the 2hrs of tennis. All children received the same prize. Well done to all that played. Thank you to Sara (Polar Capital) for sponsoring the Junior Starter Events . Next event Saturday May 26th 2pm to 4pm (Note – Squad players only)
Walkers Global Team Tennis – Saturday May 19th 1.30pm to 5pm 5 teams took part.
With guest player Sir Stephen Dalton who played in the Walkers Blue Team
Red Team winning – Paul Simmonds, Carol Jones, Ann & John Pasturel
Members only. Sign up sheet in club house. Prizes and refreshments supplied by Walkers Global
Grainville Tennis Club would like to thank Polar Capital & Walkers Global for their sponsorship of the GTC Tennis
2018 Membership form – 2018MembershipFormC