Please note: Spring 2023 term courses are now available and will be on Astro courts at the Grainville Tennis Club
They will follow Gov.je guidelines
For details and an application form please email Rychlund62@gmail.com
Mini Tennis Programme 2023
These course are for ages 5 to 11. They will cover the basics in tennis.
There are 4 different types of ball that the children will use. As follows:
Mini Red Ball – Ages 5 to 7
Mini Orange Ball – Ages 7 to 9
Mini Green Ball – Ages 9 to 10
Yellow Ball – Ages 10 & up
Please click on the links to download the Application Forms:
Development Squad 2023
Please email Rychlund62@gmail.com
The Development programme is for players who have advanced in the mini tennis programme. We operate talent i.d. at the club. During the term the coaching team look at the progress of all the players. If we feel that a child should move up then we offer them a place in this programme. It will look at the game in more detail and prepare them for playing events and tournaments.
 New – GTC Satellite Squad (Invitation Only)
This Programme is for players who have completed the Development Level.
It offers the following
Drills Session
Fitness
Coaching
Match Play
The Grainville TC Junior Performance Academy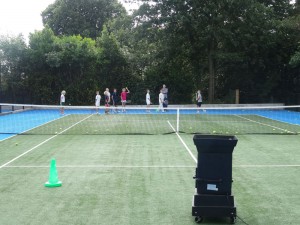 The Grainville Junior Performance Academy is a coaching programme that offers high intensity training on a weekly basis. The programme offers up to 7 hours per week of training. This would include:

Academy Squad Sessions
Drills Sessions
Match Play Sessions
Doubles Events
Can anyone join The Grainville Academy?
No, they are by invitation only and decided by a strict selection criteria set by Rychlund Aldridge. Any player wishing to be considered will be required to meet the necessary standards for each training squad.
What are the aims of the programme?
Our aim is to take the players competing at club and county level and give them the opportunity to maximise their technical, tactical, mental and physical potential as young developing tennis players.
Players are expected to take responsibly for their own development, so that they mature and develop a professional attitude that becomes a permanent part of their tennis lives.
How do I find out more?
For more information please contact Rychlund Aldridge Head Pro on: Rychlund62@gmail.com
Grainville Holiday Camps 2022
Summer camps now available  – For Children age 5 to 16.
Email: Rychlund62@gmail.com