Junior Tennis 2023 – Spring course forms now available. 
 Rychlund62@gmail.com 
All tennis programmes are running under Gov.je guidelines 
For GTC tennis application forms & Oct Half Term tennis camps please email
Rychlund Aldridge – Rychlund62@gmail.com
Junior Starter Tennis Events. We run 4 per year. They are for juniors with little or no experience of playing matches. Only squad members can take part.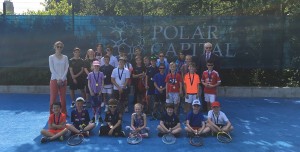 Picture Above
Children from 2019 Starter Event. A unique event where all matches have an umpire and all children receive the same price.
Left Sara Gurner , right His Excellency the Lieutenant Governor of Jersey Sir Stephen Dalton who presented the prizes.
Tennis courses have resumed with restrictions in place. For full details email Rychlund62@gmail.com
Forms to follow
Dev squads. For Players who have an understanding of how to play matches
Junior Squads. Juniors age 5 – 11
Adult Tennis Drills & Doubles Play
All Junior & Adult coaching courses are available for members & Non members
The New Satellite and existing Academy squads offer the following
Drills Session, Fitness and Match Play. These are invitational only.
For details contact Rychlund – Rychlund62@gmail.com